Have you had a bad breakup in your past? I don't think we ever go through life without at least one. It could be a partner or it could be a friend. In those moments, I try not to blame anyone or focus on things that went wrong. That stuff just leads to anxiety or self-doubt. It is easy to find some reason to beat up yourself. I am not saying that I can do this but I try to focus on things that I can change to prepare for the next relationship.
I had one bad breakup in my early thirties. I liked this person very much and it was devastating to lose them. Yet, I felt a new feeling in my heart. I realized that I project my own desires onto my partners. I had really never taken the time to discover what I need out of a relationship. How can you get your needs met if you don't know what they are?
I was able to look back at my past relationships with some objectivity. This is how I realized that I was asexual. Something dawned on me.
This was my epiphany.
I Needed to Commit to Supporting Myself before I Could Commit to Another
Yeah, I needed to find a way to support myself without relying on a partner to uplift me. What I want most out of a relationship are friendship and support. But I didn't like myself. That needed to change.
I decided that I would marry myself in a makeshift ceremony. After all, I am going to be stuck with myself for the rest of my life. I bought my own ring to symbolize this promise. It is a four-band puzzle ring with my birthstone, amethyst.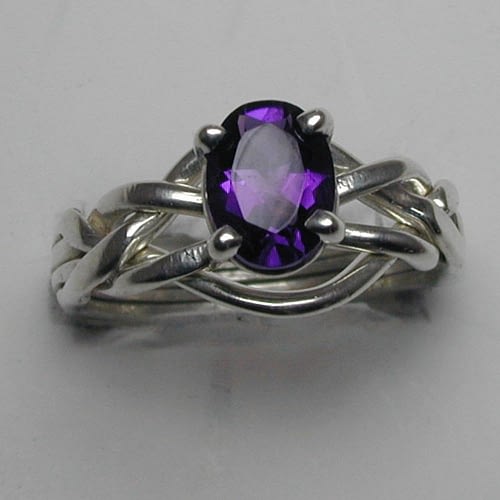 If I ever were to get married this is the engagement ring that I would have wished to receive. And yes, I know how to take it apart and put it together again. It is great to fidget with. It is also fun to take out at parties and impress people with your skill.
Loving Myself
That breakup was in my early thirties and I have grown so much since then. I've had my first days with no anxiety at all. I have had days where I am just feeling well and happy without much going on. I have given up the drama and I have a plan for the future.
Sure, there are always things that will catch you off guard. You cannot prepare for everything in life. But I am able to take that in my stride. I really do like the person who I am today.
My favorite musical of all time is Hedwig and the Angry Inch. It is a universal story about love. Hedwig at the beginning of the story believes that she has another half. A partner of destiny. By the end of the show, Hedwig realizes that they are a whole person despite all the things they have gone through. I wanted to share that finale song with you that I love so much.