I had the pleasure of visiting Bletchley Park this year. The home of the WWII code breakers. I got to see the work and legacy of one of my favorite mathematicians, Alan Turing. What I remember most about Alan Turing from my visit was his Teddy Bear. You see, as an adult Turing bought a teddy bear he named Porgy. He used this teddy bear to practice his lectures. His outfit was lovingly crafted by  a member of Turing's family and I think makes the teddy bear rather unique.
So, why am I bringing this up? This year it was announced that Alan Turing would grace the £50 note!! You know I'll be getting one to frame in my bedroom to go with my awesome Alan Turing poster. I wanted to do something to celebrate. I came up with a new Alan Turing bookmark that also pays homage to Porgy! I am offering up this mathematical themed cross stitch pattern for free! I'd love to see more people with their own Porgy.
I got the diagram for the Teddy Bear from Makoto Oozu's "Mega Mini Cross Stitch." I modified the colors to match Porgy's image.
I think this is a really good pattern for beginners. You only need to know three stitches. There is a pattern for a full bookmark.There is also a pattern for just Porgy, solo, if you prefer. See examples of the projects by navigating to the bottom of this page.
Download the Patterns
Bookmark
Alan Turing Book Mark - Porgy (975 downloads)
Stitch on a white or black size 14 count aida fabric,
I cut a 8.5 inch by 2.5 inch strip from my aida fabric. This will be the size of the completed bookmark.
I use this 6×6 inch Q-snap instead of an embroidery hoop. It works really well for a rectangle.
If you use a white background, stitch Alan Turing in DMC #310 Black.
If you use a black background, stitch Alan Turing in DMC #415 Pearl Gray.
I used 2 Strands DMC Floss
Floss List
---
DMC #310
DMC #798
DMC #3852
DMC #780
DMC #415
DMC #156
DMC #666
To finish your bookmark, you can use this tutorial.
Optionally, you can also make a tassel. Glue it between the layers of the bookmark and felt.
Porgy
Porgy (1234 downloads)
Stitch on a white or black size 14 count aida fabric.
You can stitch Porgy in a 3 inch embroidery hoop. I cut out a 5 inch square from the aida fabric. When you are done finish your hoop and hang the teddy bear where you please.
I used 2 Strands DMC Floss.
Floss List
---
DMC #310
DMC #798
DMC #3852
DMC #780
DMC #415
DMC #156
DMC #666
Examples
Black Background Bookmark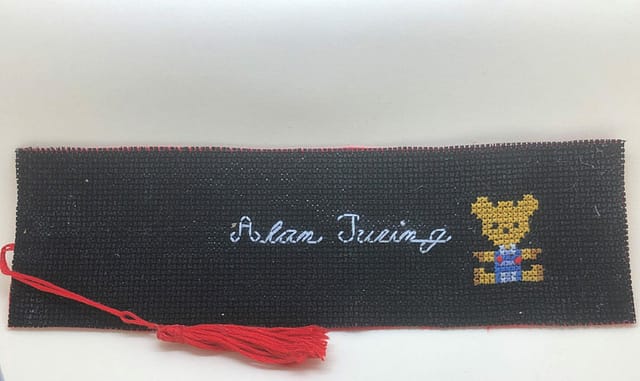 White Background Bookmark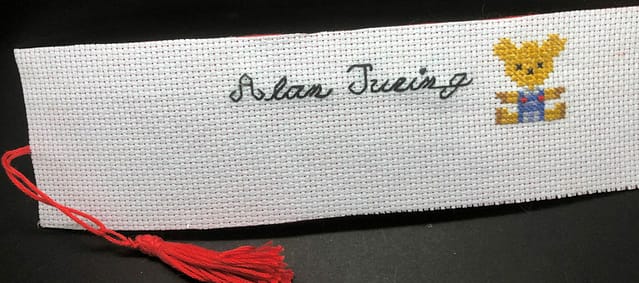 Porgy
Black Background
White Background