It is fair to say that I am a little obsessed with Alice in Wonderland. This classic of children's literature is my favorite of the genre. I've loved it for a long time. Before I knew that Lewis Carroll was just a pen name for the mathematician Charles Lutwidge Dodgson. I do want to say as a preface that Dodgson is problematic. It is unclear just what his intentions were towards Alice Liddle. Something which I found well documented in Martin Gardner's Annotated Alice. That is the same Martin Gardner, the mathematician know for his works on recreational mathematics.
I felt much like an Alice growing up. I always felt myself at the mercy of adults who were spewing nonsense at me.

This quote from Alice in Wonderland reminds me of the adults in my life at that time:
"I'm just one hundred and one, five months and a day."
"I can't believe that!" said Alice.
"Can't you?" the Queen said in a pitying tone. "Try again: draw a long breath, and shut your eyes."
Alice laughed. "There's no use trying," she said: "one can't believe impossible things."
"I daresay you haven't had much practice," said the Queen. "When I was your age, I always did it for half-an-hour a day. Why, sometimes I've believed as many as six impossible things before breakfast."
Yeah.
I have just started a class in mathematical reasoning. We talked about how kids are better with logic than adults. That is because sometimes when we speak there is an implication in our words that don't jibe with the logic of the statement we just made. The example being a parent who tells their kid; "If you don't eat dinner, you won't get any dessert". We understand that this means you get dessert if and only if you eat dinner. But that isn't the same statement as what the parent has said. A conditional statement isn't the same as a biconditional statement in logical terms.
Alice in Wonderland, Second Shelf Books, and A.N Devers
I first heard of Second Shelf Book through their Kickstarter campaign. It seemed like an ambitious endeavor. A bookstore that only stocks rare editions of books written or illustrated by women. Although, to be honest it shouldn't be. That is kind of the point, right? We don't think about elevating and collecting works by female authors and it is super important! Unfortunately, I wasn't able to back on Kickstarter at that time.
I needed to make amends.
The perfect opportunity came up on my London trip this past February. My first stop was Second Shelf Books, the brick and mortar store! As I discovered, the store is in the busiest areas of London for shopping and sightseeing. The bad news is that it is not directly visible from the street. It is quaintly tucked inside a courtyard.
In all honesty, it doesn't detract from the place for me. It makes it even more epic. Like crossing over a threshold into a mysterious shop holding some item of great value.
You can say every journey starts with a single step, but I've had hundreds of journeys from picking up books.
Unfortunately, A.N Devers was not there that day that I visited. Which might be for the best as I am terribly socially awkward when making conversation in person. I do follow her on Twitter and often find myself agreeing with a few of her opinions.
Falling in Love with a Rare Book
When I walked into the shop my eye was drawn to several copies of Alice in Wonderland. I was shocked actually because it is a book written by a man. So why was it there? I was informed that they also sell books illustrated by women! How cool is that!
I found this beautiful copy illustrated by Gwynedd M Hudson. Just look at this cover. I can't believe I own such a beautiful looking book. There is no edition number on it but this was clearly a gift. There is a note that was written for Christmas of 1928. The edition also says it was published by Boots The Chemists.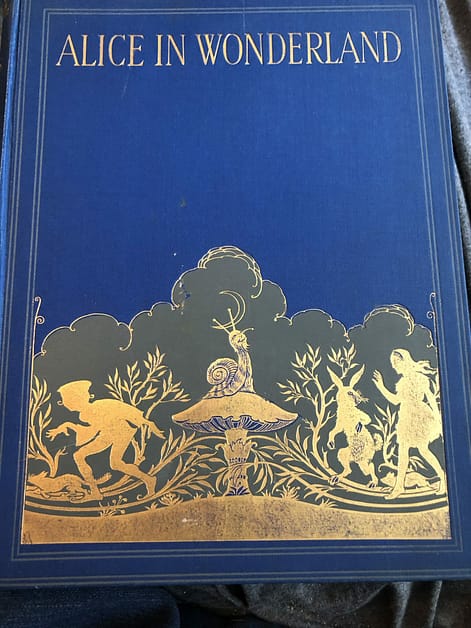 I was so in love from the moment I set eyes on it.
This book has everything. For real, the style of the book is very similar to an illuminated manuscript. Thee are drawing in the margins, Drop caps and some amazing portraits that I wish that I could hang on my wall. Maybe I can scan them and make them into posters. The book is so delicate. I try to handle it as little as possible. I will share some of my favorite images from the book.
Just look at this title page
How about this little Alice with the quote, "Eat Me."
Watch Alice tumble through the Rabbit Hole
One of the most memorable scenes, and my favorite. The cards come crashing down around Alice.
Alice as a Heroine
I think if you are a scientist, Alice is a great role model. I have taken, "Curiouser and Curiouser", as a personal motto. After all, curiosity is the starting place for most science experiments. Alice is also a reminder of remaining skeptical and using empirical methods to come to conclusions. To take that a step further, there have been outright efforts to make her even more heroic in modern times. You might be thinking of the Tim Burton adaptation of Alice in Wonderland. That isn't on my list of favorites.
I was lucky enough to catch a performance of Septime Webre's Alice (in wonderland) performed by the Oregon Ballet Theater. Well, just read this reviewer's intro.
In one of the most ebullient scenes in Oregon Ballet Theatre's Alice (in wonderland), Alice (Xuan Cheng) and the Mad Hatter (Brian Simcoe) duke it out with the Jabberwock. It's not a surprise that our heroes triumph against the dragonlike bruiser. It is unexpected, however, when Alice celebrates their victory by flexing her muscles and striking an Arnold Schwarzenegger-style pose. — Bennett Campbell Ferguson, Willamette Weekly
Yes, Alice gets to slay the Jabberwock!
Everything about this ballet is gorgeous. The costumes and designs are based on fractals. So you get these intricate repeating patterns.
It has elements of traditional ballet and modern dance.
My favorite scene is the Pas de Deux with the Cheshire Cat.
Tell me your thoughts about Alice in Wonderland!

I'm the writer with a mathematical muse. I love words, numbers, dreaming big & helping others. I believe that whatever you imagine, you can become. They/Them.